Early Beginnings: Le Puy, France 1650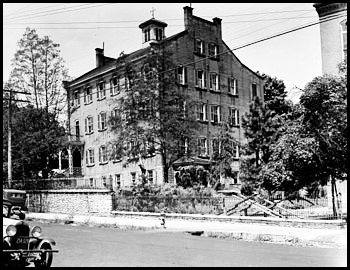 If every age has its own paradoxes, seventeenth century France in which we had our beginnings was certainly no exception. On the one hand, it was an age of hierarchy and order, a period dominated by classical harmony and external propriety. On the other hand, this century had seen thirty years of war (1618-1648) which left in its wake a population reduced to a struggle for existence. Widows and orphans, especially, suffered from famine, disease, and poverty.
In the midst of this misery, the Spirit brought together the Jesuit missionary, Jean Pierre Medaille, and a group of women who shared a compassion for their neighbors and a conviction that their own salvation, service to those in need, and proclaiming the glory of God were one and the same.
Thus it was that, under the spiritual direction of Father Medaille, these women gathered in small groups to help one another in their quest for God and to reach out to the suffering people around them.
He wished to form a new kind of religious community: a group of women who would profess simple vows, live in small groups, work to support themselves, have no property or social prestige, no patron, no external appearances or special works, and who would live and dress simply but in a manner appropriate to their circumstances.
They would dedicate themselves to the most perfect love of God with their feet in the street to serve their neighbor in all the corporal and spiritual works of mercy, without distinction.
It was a diverse group, these women who gathered with Father Medaille.
Francoise Eyraud hardly knew the alphabet, but at 39 was administrator of a hospital for orphans in the Montferrand district of Le Puy. She served as superior of the new community for 30 years.
Claudia Chastel, a war widow, was the only one of the group who could read and write.
Marguerite Burdier, 26, could read and was learning to write.
Anna Chraleyer, 46, was the oldest of the group.
Anna Brun was 15 and an orphan.
Anna Vey was also 15 and possibly an orphan.