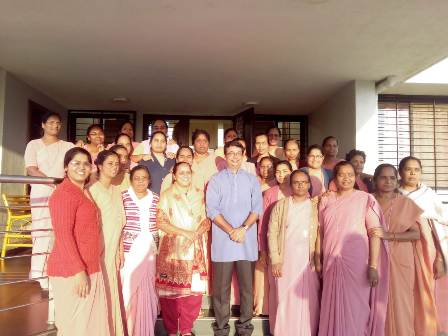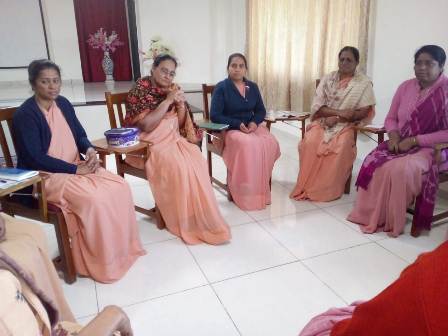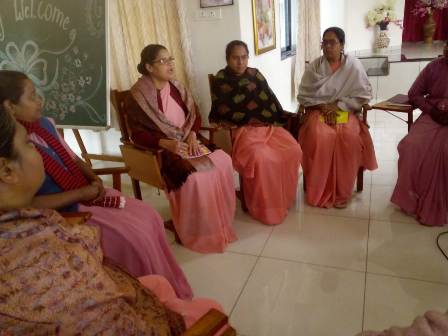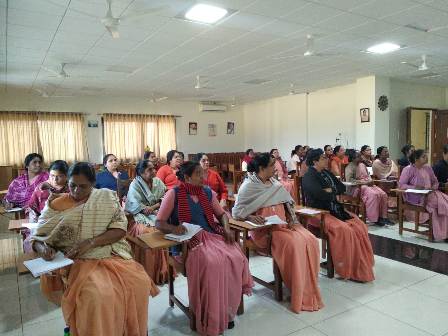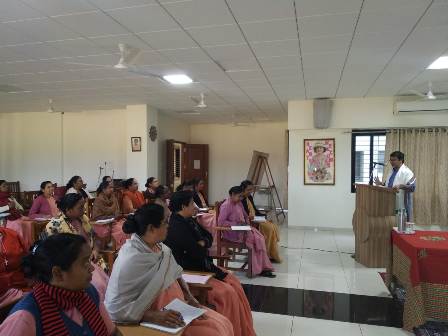 When we first heard of the gathering, all of us were filled with joy and expectation of meeting one another after a very long time. Excitement had no bound in our hearts. The gathering was arranged at Snehsadan, Igatpuri for three days – 11th to 13th of January 2019. A number of participants arrived on the previous day of the gathering hoping to spend more time with the Sisters, while others reached the place before the gathering began on 11th. The campus was filled with smiles and laughter, greetings and wishes, which were the result of our excitement in meeting and sharing our joy and happiness with one another.
After a brief but warm welcome by Sr. Ophelia, the Provincial Superior of Nirmala Province and the introduction of the resource person for the gathering Fr. Shiju Francis, OP by Sr. Joyce, the session began with a meaningful prayer service led by Sr. Joyce.
Fr. Shiju dealt briefly yet very profoundly on various topics related to our life and mission. His inputs, coupled with sharing of his own life experience during the course of the two days, left an imprint in the lives of the participants. We had also got ample time to share our life and mission with everyone and with our own batch-mates in particular. The sharing of the life experiences of Fr. Shiju and that of our own with one another helped us to rejuvenate ourselves and to go forth in our life and mission with great vigour. The time of our recreation, in which everyone participated whole-heartedly, was full of fun and relaxation. A day of outing was another moment to make ourselves at ease with one another and to get to know others more closely. Overall, it was a time to celebrate one another and refresh our old memories. It was also a time to renew our old relationships and at the same time to enter into new ones as well. We bid our final adieus to one another and returned back to our own respective communities with an enriching experience.
We are very grateful to our four Provincials, their teams and the Ongoing Formation Committee for organizing this program for us.
Sr. Preeti Hulas
Pachmarhi Province